Buying an Indoor Cycling bike can be a challenging task. We are here to help you make the best choice, so you can start your cycling journey with confidence! Below, we have listed some important points to consider when finding the perfect indoor cycling bike.
Table of Contents
The resistance system
An Indoor Cycling bike's resistance system is a key factor to consider. It consists of a flywheel, drive, and resistance mechanism, which determine the bike's resistance levels. There are two common types of resistance systems: felt resistance pad and magnetic resistance.
Felt resistance pad
Bikes with a felt resistance pad system are usually more affordable than those with magnetic resistance. Both systems provide consistent resistance without pedaling, but the felt resistance pad needs to be replaced approximately once a year. Additionally, this type of brake pad requires periodic lubrication with silicone-based oil. To stop the flywheel instantly, you press down on the resistance dial, causing the felt resistance pad to press against the flywheel.
Since bikes with a felt resistance pad use cheaper materials, they are a budget-friendly option.
Magnetic resistance system
The magnetic resistance system operates without physical contact with the flywheel, using the Eddy Current Principle. The flywheel spins between two magnets, and the resistance is regulated by adjusting the distance between them with a resistance dial. These systems are nearly silent and require minimal maintenance. Moreover, Indoor Cycling bikes with magnetic resistance often come with a resistance indicator, allowing you to precisely gauge your training resistance. To stop the flywheel, brake pads are installed. Bikes with magnetic resistance are generally more expensive, with prices starting around €700.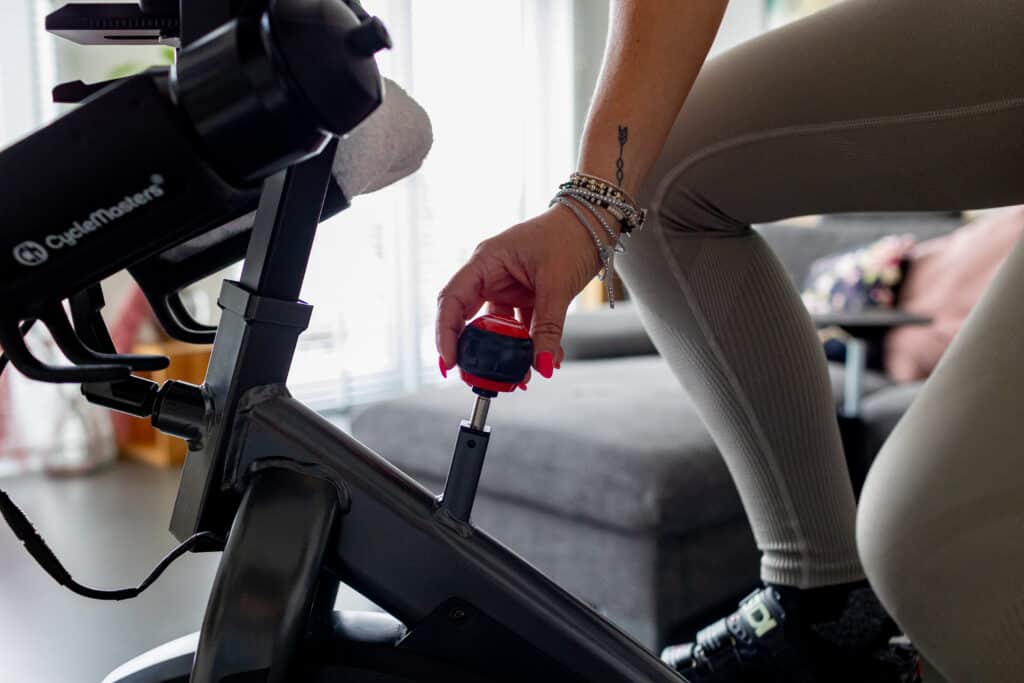 The drive
The drive mechanism of an Indoor Cycling bike is crucial. You can choose between a chain drive or an industrial V-belt.
Chain Drive: Similar to traditional bicycles, a chain drive can produce noise. It requires periodic lubrication, just like outdoor bikes. Choosing a chain drive provides an authentic cycling experience, including the sound of a racing bike.
V-Belt Drive: A V-belt drive is quiet and maintenance-free. It does not require lubrication. If you prefer a quiet and hassle-free bike, a V-belt drive is a suitable option.
The weight of the flywheel
The weight of the flywheel is an important aspect when considering an Indoor Cycling bike. The flywheel's weight determines the resistance range and the smoothness of the ride. Most flywheels weigh around 20 kg. It's generally recommended to choose a bike with a flywheel weighing at least 15 kg for optimal performance. Bikes with lighter flywheels may not provide the best experience for home use.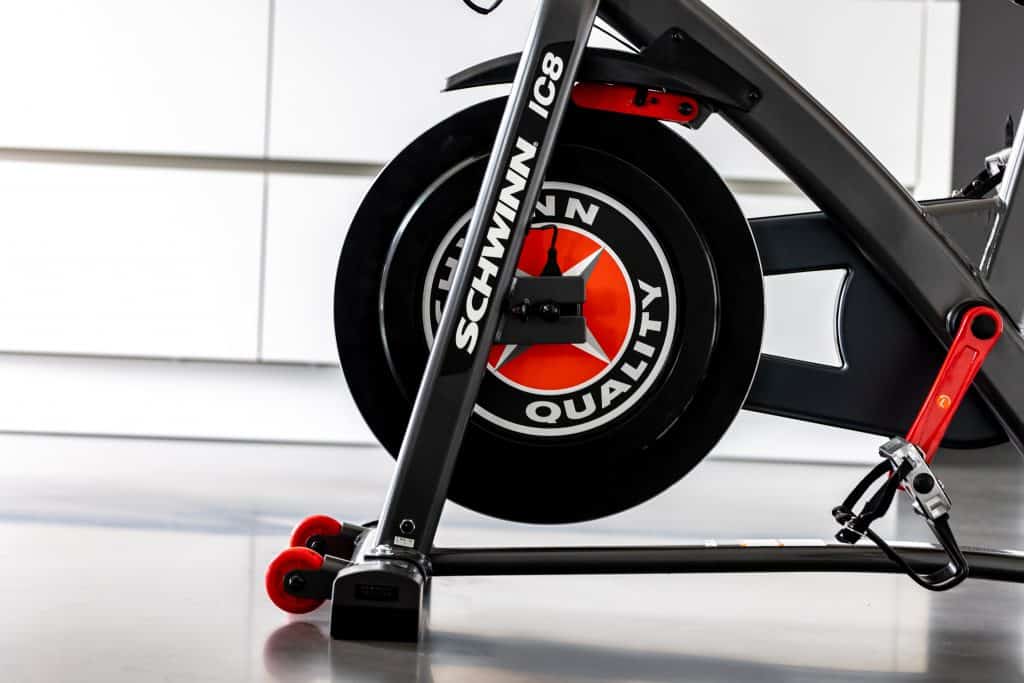 Weight of the bike
The weight of the bike itself plays a role in its stability. Heavier bikes tend to be more stable, especially during intense exercises like standing climbs. Lighter bikes may wobble, leading to discomfort or even safety issues. When shopping online, it's essential to carefully read reviews to ensure stability.
Adjustable saddle and handlebars
Most Indoor Cycling bikes have adjustable saddles and handlebars to accommodate user preferences. However, some bikes may not allow forward or backward movement of the handlebars. This adjustability is crucial for maintaining the correct posture, particularly for taller individuals. Incorrect cycling positions increase the risk of injury.
Pedal system
Choosing the right pedal system is another important decision when buying an Indoor Cycling bike. You can opt for clip-in pedals or pedals with straps.
Clip-in Pedals: If you want to maximize your workout, clip-in pedals are recommended. The widely used SPD system (Shimano Pedaling Dynamics) allows for full engagement of pushing and pulling movements, training different muscle groups. SPD pedals are commonly found on racing and mountain bikes.
Straps on Pedals: If you prefer using sports shoes, pedals with straps keep your feet securely in place, enabling you to perform the necessary pushing and pulling movements. Some bikes feature dual pedals with SPD system on one side and straps on the other.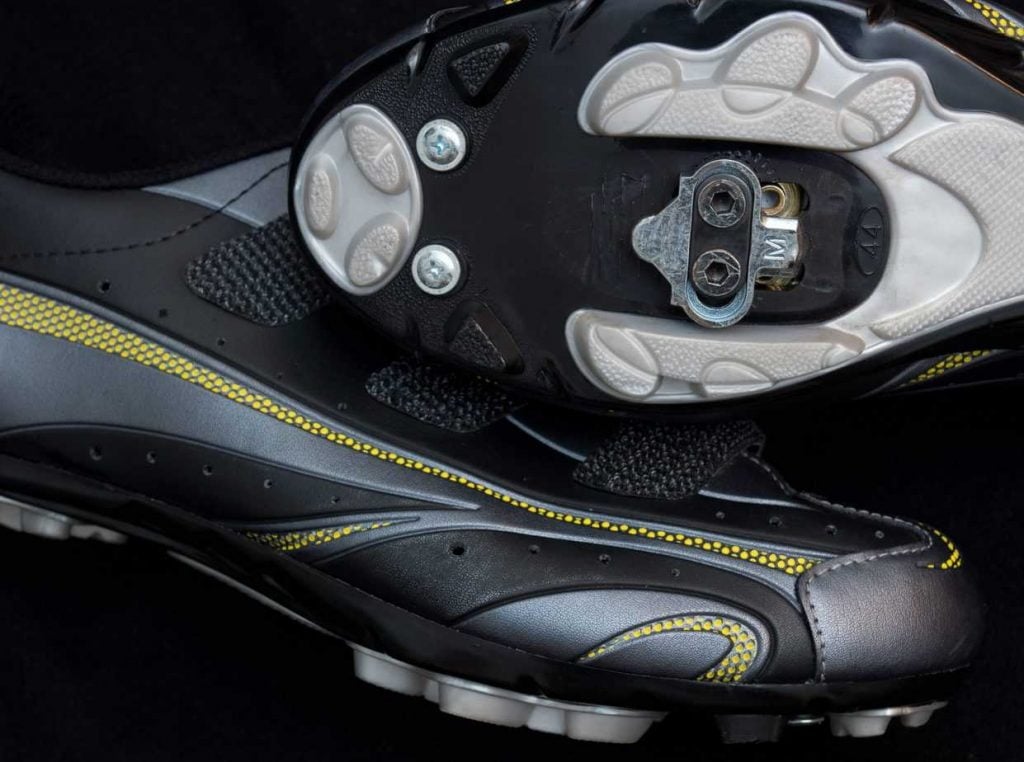 Buying an Indoor Cycling Bike with a data tracker
Collecting exercise data has become increasingly popular. If you derive motivation from data tracking, consider purchasing a smart bike. Smart bikes. like the Schwinn indoor Cycling bike allow you to measure metrics like wattage, distance traveled, and heart rate. Many smart bikes can be connected to mobile apps or wearables to track this data.
While some smart bikes have heart rate monitors on the handlebars, their accuracy can be compromised due to the required hand position. Using a separate heart rate monitor, which can be linked to your phone or smart bike, often provides better accuracy.
Buying a Indoor Cycling Bike with screen
Indoor Cycling bikes with screens are becoming increasingly popular among fitness enthusiasts. These bikes are equipped with built-in screens that provide interactive workout experiences. The screens typically display various metrics such as speed, distance, time, and even virtual cycling routes. Some bikes offer subscription-based services that provide access to live or on-demand cycling classes led by professional instructors. These screens can enhance your motivation, simulate outdoor riding scenarios, and provide a more engaging workout session. If you enjoy immersive training experiences and prefer guidance during your rides, an Indoor Cycling bike with a screen might be the perfect choice for you.
However, it's important to note that you can still have a similar experience with a screenless bike by using a tablet or TV, especially if you have budget constraints.
Is more expensive always better?
While more expensive bikes tend to offer better quality and durability, higher price doesn't always guarantee a superior choice. Some high-end bikes are specifically designed for gym use, subjected to 3 to 6 hours of daily usage and constant adjustments. For home use, where the bike is typically utilized for a maximum of 8 hours per week, it's unnecessary to spend extra money on a gym-grade bicycle. Differentiating between bikes meant for gyms and those for private use is important due to the considerable price difference.
Leasing an Indoor Cycling bike
Instead of buying an Indoor Cycling bike, some online providers offer leasing options for Indoor Cycling bikes. This is ideal for users who prefer outdoor exercises in the summer and utilize Indoor Cycling as a winter substitute. Leasing also allows you to try out different bikes before making a purchasing decision or determine if Indoor Cycling suits your preferences.
The best bike for you
Before buying an Indoor Cycling bike, carefully consider what is important to you. The best Indoor Cycling bike is the one that suits your specific needs and preferences. If you desire a simple bike without many advanced features, plenty of affordable options can be found online, with new budget bikes starting around €300. You can also explore Facebook Groups for potential second-hand options.
If tracking data and monitoring progress matter to you, consider investing in a smart bike. For communal areas like living rooms, a bike with a V-belt and magnetic resistance offers a quiet experience. Our partners offer bikes within every price range, ensuring there is an option for everyone.
If you're curious about what else you need before starting Indoor Cycling, we provide detailed information here.
Want to try out for yourself? Start by buying an Indoor Cycling bike and begin your trial period with CycleMasters right away!