Want to start indoor cycling? Discover how to get started, choose the right bike, track your progress, and find the perfect shoes and clothing for an optimal indoor cycling experience. Read on to learn more!
Table of contents
how to start indoor cycling at home
If you're looking to start Indoor Cycling, you don't have to go to the gym. Many individuals now prefer doing Indoor Cycling in their own home. You can easily access online classes through an app and stream them to your TV or tablet. You can follow lessons and programs at your own convenience. To start your Indoor Cycling journey, the first step is to purchase a bike.
Keep reading to learn which app we recommend!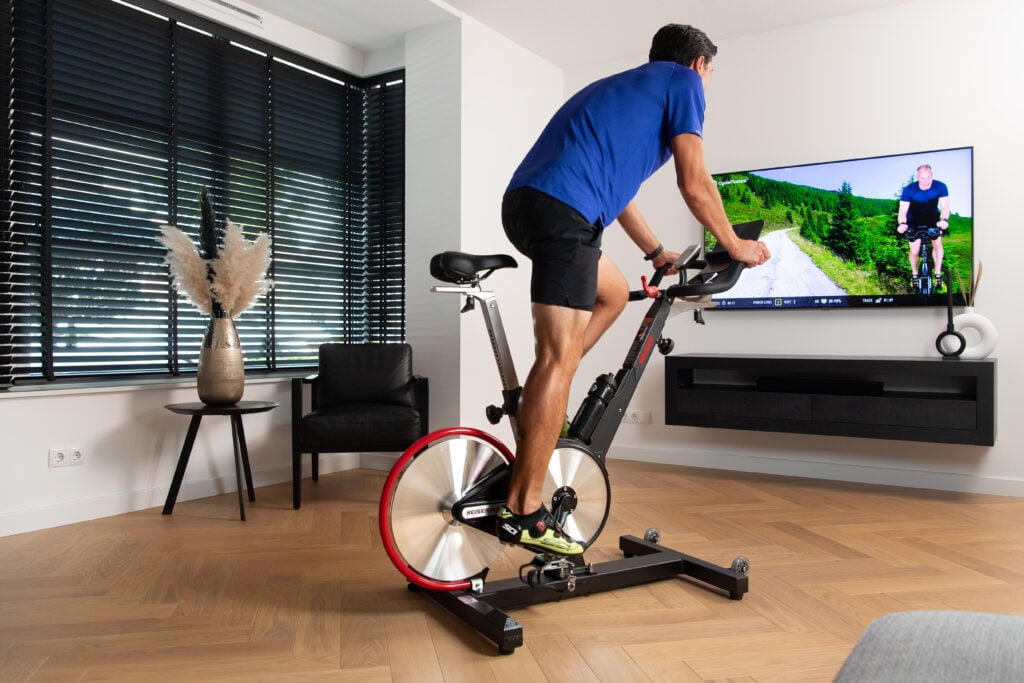 What to Look for When Buying a Good Indoor Cycling Bike?
Do you want to start indoor cycling at home? Buying the right indoor cycling bike is crucial to make the most out of your workouts. Here are some tips to help you achieve the best Indoor Cycling setup:
Choose a reliable store or speciality shop that offers expert advice and a wide range of options.
Consider the different versions and price ranges available to find one that fits your budget and fitness goals.
You can save costs by purchasing a used bike
CycleMasters has an extensive network of partners offering bikes that suit you. As a bonus, with each partner purchase, you'll receive one month of free access to CycleMasters workouts so that you can start right away.
Investing in a good indoor cycling bike will help you achieve your fitness goals and improve your overall health. Use these tips to find the right bike for you.
Indoor Cycling Bike vs Exercise Bike: What's the Difference?
When it comes to indoor workouts, many people often wonder: What's the difference between an indoor cycling bike and an exercise bike? Well, let's start with the basics. An indoor cycling bike is designed to replicate the experience of riding a road bike, while an exercise bike is more like a stationary bike. One of the most significant differences between the two is the pedaling system. On an indoor cycling bike, the flywheel keeps spinning even when you stop pedaling, whereas on an exercise bike, you can keep your legs still.
Another notable difference is the posture. On an indoor cycling bike, the handlebars are set at the same height as the saddle, allowing you to adopt the same posture as on a road bike. On the other hand, exercise bikes usually have a more upright seating position. As a result, indoor cycling bikes are better suited for more intense workouts.
To learn more about the differences between these two types of bikes, check out our detailed guide.
Chain Drive vs. V-Belt Drive: Which is Best for Your Indoor Cycling Bike?
When it comes to choosing the right drive for your indoor cycling bike, there are two main options: chain drive and V-belt drive. While a chain drive can provide a more realistic outdoor cycling experience, it can also produce noise that may be disruptive to others in your home. In contrast, a V-belt drive is much quieter and requires less maintenance. This makes it the ideal choice for those who want to exercise at any time of day without disturbing others. Learn more about the differences between chain drive and V-belt drive to determine which is the best option for your indoor cycling needs.
Track Training Data with Indoor Cycling Bikes and Apps
Although not essential when starting indoor cycling, some indoor cycling bikes feature a useful display screen that provides real-time workout data such as speed and distance travelled. For more comprehensive tracking, certain models are equipped with built-in training computers, often referred to as smart-bikes. These smart-bikes tend to be slightly pricier compared to those without training computers.
If you start Indoor Cycling and prefer a bike without a built-in computer but still want to monitor your training data, you have the option to track your workouts using a separate app. Popular choices include the free app Strava, as well as Google Fit and Apple Health, which are equally suitable for tracking your cycling sessions.
In addition to handlebar sensors that measure heart rate on some Indoor Cycling bikes, there are also bikes and apps that support external heart rate monitors. Using a heart rate monitor frees you from maintaining a specific grip on the handlebars.
Stability & pedal selection
If you're new to Indoor Cycling, it's important to consider the stability of the bike before making a purchase. A stable bike is essential for safe riding and preventing damage to your floor from the forces exerted during exercise. Look for a solid and sturdy frame and legs to ensure stability.
When it comes to pedals, there are different options available. SPD pedals, or Shimano Pedalling Dynamics, are popular among experienced cyclists and require special cycling shoes. However, for beginners, pedals with straps might be a better choice. These pedals don't require special shoes and come with toe clips to keep your feet from slipping off. Consider which type of pedal is best suited for your needs, and check if the bike has interchangeable options. Some bikes may have both options available.
Read more about buying an Indoor Cycling bike.
Essential Shoes and Clothing for Indoor Cycling
So, you're ready to start Indoor Cycling, but what shoes and clothes do you need? Well, if your bike has belted pedals, you can wear your regular sneakers. But if you have SPD pedals, you'll need special cycling shoes that clip into them. And hey, if you're worried about saddle sores, consider wearing cycling shorts – they've got a padded seat insert that'll keep you comfortable during your ride.
Now, when it comes to clothing, it's all about what makes you feel good. But let's be real, no one wants to be sweating bullets in a pair of baggy sweatpants. Opt for something light and breathable that won't weigh you down or overheat you during your workout. Trust us, you'll thank us later.
If you want to learn more about finding the right gear for Indoor Cycling, check out our guide by clicking here.
Click here to read more about buying the right gear for Indoor Cycling.
Tracking Your Progress for Optimal Results
When it comes to Indoor Cycling, tracking your progress can be a real game-changer. That's why there are a variety of apps out there that can help you keep tabs on important metrics like the number of calories burned, average heart rate, and workout duration.
Some of these apps, like CycleMasters, even let you display your heart rate directly on your screen, so you can make sure you're hitting your target heart rate zone.
So, if you're looking for a little extra motivation and want to stay on top of your progress, consider trying out one of these apps. You might just be surprised at the difference it makes!
To get the best Indoor cycling plan for weight loss, we wrote down some tips and tricks.
Workouts for Indoor Cycling: Staying Motivated and Effective
To start Indoor Cycling can be challenging, and sometimes it can be tough to stay motivated. However, getting started is often the hardest part, so take that first step!
If you're looking for some support and inspiration, you might want to check out CycleMasters. They offer awesome studio workouts set to great music that will transport you to stunning landscapes. Plus, each class comes with motivational guidance from your favourite trainer.
Ready to give it a try? You can take advantage of CycleMasters' free 14-day trial of their online classes, or start Indoor Cycling with a free workout on our website.