When following an Indoor Cycling workout, you may encounter terms like 'freezes' or 'jumps.' Let's dive into the Indoor Cycling exercises and learn more.
Table of Contents
Before you start with the exercises, it is important that your bike is set up correctly. For this, watch the video above.
The Indoor Cycling exercises below can also be found on our YouTube channel. Here Floor shows, per video, what to pay attention to when performing the exercises.
Seated climb
Indoor Cycling exercises are the exercises you apply on the indoor cycling bike during a workout. Exercises that appear in every workout are the climbing exercises. During a climb, you slowly turn up the bike's resistance. The pedalling then becomes heavier, making it feel like you are going up a mountain. As the name suggests, you perform a seated climb sitting down.
Standing climb
A standing climb you perform standing. In a standing climb, move your hands to the end of the handlebars. Make sure the resistance on the Indoor Cycling bike is enough to support your body weight. When standing, be careful not to lean too much on your arms. Your arms and hands only serve for support and balance, and you don't want to strain them too much while cycling.
Sprints
In a sprint, you lower the resistance, so you can pedal faster. A sprint, like a climb, can be performed standing or sitting. Try to double your pedalling pace during the sprint. You will find that after a sprint, your breathing and heart rate are very high. This is why sprints are great for interval training. The danger of this exercise lies in leaving too little resistance on your wheel and your legs not keeping up with the pace of the spinning flywheel.
Instead of you being the bike's boss, in this case the bike becomes your boss. Therefore, always keep a small amount of basic resistance on your wheel so that you remain in control of the workout. This otherwise applies to all Indoor Cycling exercises you perform. A basic resistance is a must.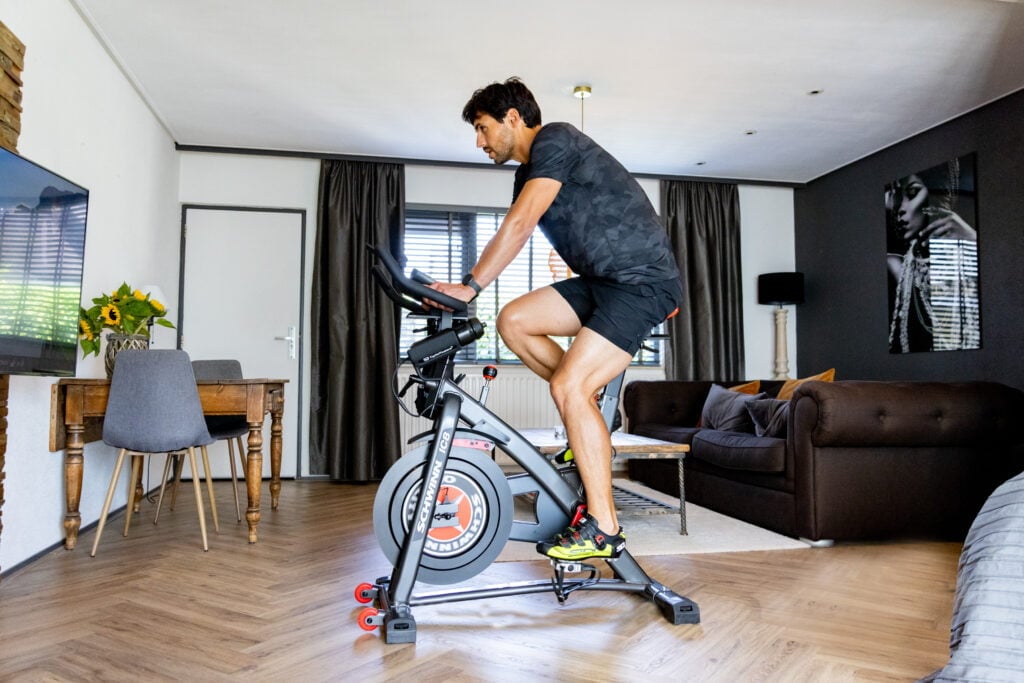 Freezes
Freezes are one of the toughest exercises during an Indoor Cycling class. During a freeze, you come off your saddle and freeze your entire upper body (hence the name freezes). During this, you tighten your abdominal muscles and keep your hips still. The goal of this exercise is to have all movement come from the legs. Normally, your upper body helps by moving from left to right. This moves your centre of gravity and helps your legs exert power. During a freeze, you deliberately do not do this, so you will notice that it becomes harder to pedal.
Mountain Attacks
Mountain Attacks are a form of climbing where you accelerate through increased resistance, as if you were accelerating up a mountain. You do not have to cycle on the beat in this process.
Jogging / running
Indoor Cycling exercises are not only performed while seated. They are alternated with standing techniques. With this exercise, you have your hands on the side of your handlebars (in the middle of your handlebars). You emphasize your upper legs, by keeping your upper body still while your legs cycle through. You bring your buttocks up to just above the saddle, keeping your back straight. When jogging, you move with your body relaxed to the music.
Jumps
During Jumps, you alternate a standing position with sitting in the saddle as you switch your hands along from the inside or side of your handlebars to the end of your handlebars.
Hand positions
While cycling, you use different hand positions for the different Indoor Cycling exercises. The hand position you use has to do with your posture on the bike and the intensity of the workout. It is common to change hand positions during a workout, as you also change your posture. These hand positions are also called position 1,2 and 3 for convenience.
Position 1: Hands at the bottom of the handlebars
Position 2: Hands at the side of the handlebars
Position 3: Hands at the end of the handlebars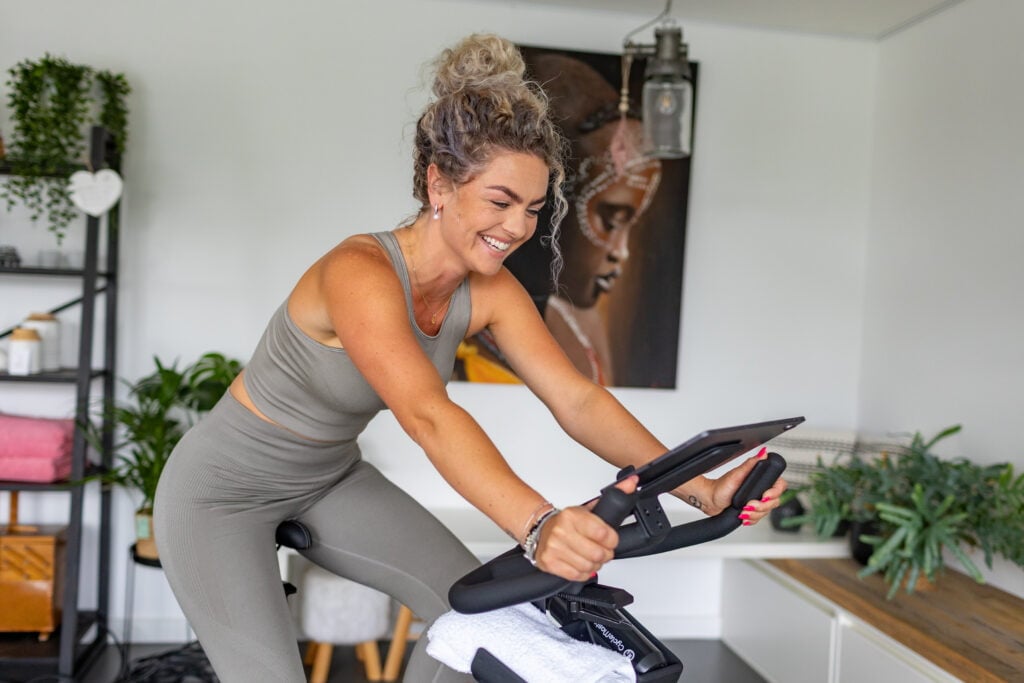 Position 1 is used most often during rests and jumps. With your hands at the bottom of your handlebars, you make your upper body long, allowing you to breathe easier and deeper. This way you give your body a rest after a workout or during a warm-up. Position 2 is used most often during a workout. You use this position while cycling at a medium to high pace. Position 3 is used during intensive parts of the workout and standing exercises. Of course, choosing the correct hand position also comes down to personal preference.
Indoor Cycling terms
Besides the various Indoor Cycling exercises, there are many other terms used during a workout. Do you want to know more about resistance, RPM and heart rate zones? Or get to know more about different types of cycling classes? You can find these Indoor Cycling terms here. You can also find Indoor Cycling tips on our site.
Become a member of the CycleMasters Facebook Community and connect with like-minded fitness enthusiasts!