CycleMasters is not just about us, it's about you and us. Our community includes members from all corners of the globe, spanning from Mexico to Australia, England, USA, and even our close neighbour Belgium. Among our valued members is Shira Strachova, who resides in an unconventional location that she describes as "at the end of the world and then to the right." For Shira, participating in our Indoor Cycling workouts is the ultimate stress-reliever. We are thrilled to share Shira's CycleMasters review with you.
Table of Contents
Medicine for stress and fatigue
Shira has been cycling with CycleMasters for a while now and gets a lot of satisfaction from the Indoor Cycling workouts. These came to her at the right time in her life. "About three years ago, things were not going great for me. I was stressed and tired. I was missing the positive aspects of life and wasn't seeing the beautiful things any more. They were there, but I was no longer aware of them. My environment also noticed this and helped me to get back on track. A colleague introduced me to CycleMasters. I had already followed Indoor Cycling lessons in the past, so I knew what the sport entailed."
Shira was not really keen at first, but because her colleague kept inviting her, she accepted the invitation." "I completely broke down the first class, it was so hard! But the feeling I got after the class, I will never forget it. I was so happy! The endorphins made me feel fantastic."
Setting priorities
During Corona's troubled times, Shira was glad to have the CycleMasters app. Especially during the hard lockdowns, Shira had a lot to gain from the online Indoor Cycling workouts. "In Belgium, at one point you were only allowed to see one person per household. When the gyms closed, my partner bought me an Indoor Cycling bike…. truly a gift from God! The app meant, and still means, a lot to me. During the lockdown, I could fret and was sometimes like so many people fed up with it all. But now I could embrace modern technology and make the most of it."
Life changing
This period has brought me a lot. I reevaluated my life, and I've got different priorities. I see so many more possibilities and opportunities that I didn't see before. Before, I was mostly focused on my work and forgot to enjoy myself. To start Indoor Cycling, I had to make time in my schedule. This made me realize that when I really wanted something, I should and could make time for it. I now enjoy getting up at five in the morning because I have gained so much energy and set my priorities differently."
Recharging through exertion
Indoor Cycling is Shira's favorite sport. She loves doing it so much that she follows the lessons every day of the week. "I can't imagine my life without sport. It has so many health benefits, and you look good!" Yet, it's the mental benefits that Shira see as the best benefit. "When I'm stressed or frustrated, I do a CycleMasters workout. Intense workouts take my mind somewhere else. Once your thoughts are free, you get the best ideas."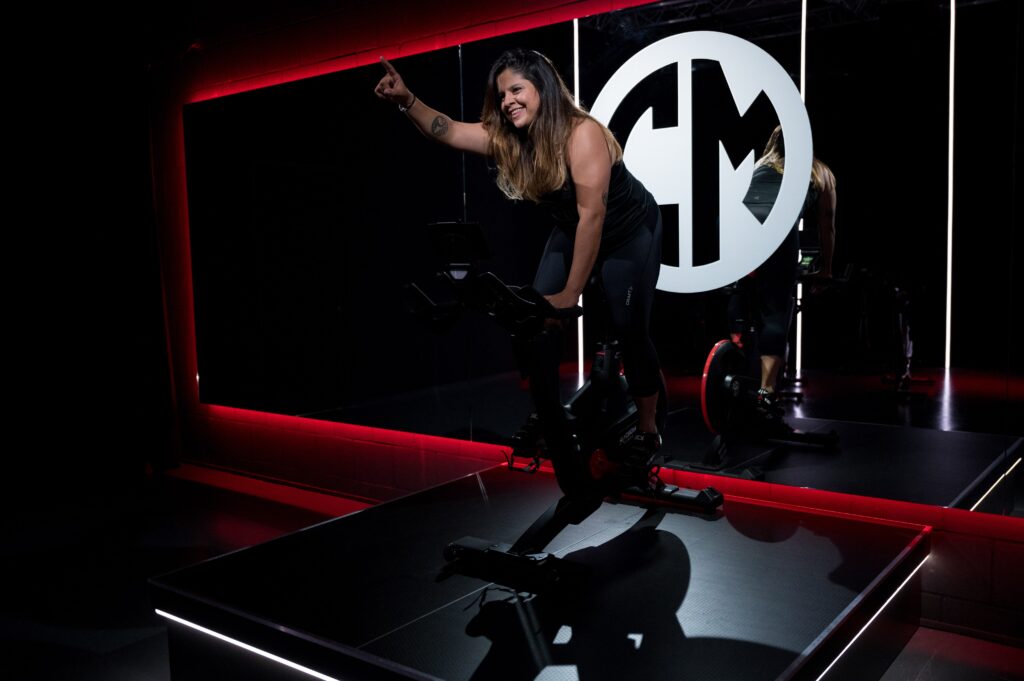 Paola's number one fan
Shira loves the Scenic Rides. Paola's classes in particular get a lot of credit. Although Mehdi and Padraig are also among her favourites, Paola really remains her number one. "She is such a great instructor. She supports, motivates and has humour. Her tracks are longer, which gives me time to dive in and enjoy. My favourites are long climbs. These are demanding, but work well for your body and mind." But beware, Shira points out. "As sweet as she is, Paola is a tough one: she pushes you to the limit, so you get your best result!"
CycleMasters Review: tips from Shira
If there's something you really want to do, make it a priority! Whether its sports or more time with your family or friends. It may not always be easy, and you may have to sacrifice other things, but it is absolutely possible. Your life, your choices.
Anything is better than nothing. Even the worst workout is better than doing nothing! There are days when it doesn't work. That's okay.
Set your goals, make sure they are realistic, and go for it!
Small steps. Lots and lots of small steps. With time you'll notice results.
Buy clickable Indoor Cycling shoes. The difference is huge.
Buy a heart rate monitor. It is useful to check your heart rate during a workout, but also interesting to see your progress.
We love to hear your story! Write your CycleMasters review on Google, in the App Store or Google Play Store.