With the right Indoor Cycling music, you will get the most out of your workout. Music gets you motivated and helps you perform the exercises in a class in the best possible way! We tell you all about this music, name popular playlists and give a top 10 of Indoor Cycling songs.
Table of contents
What music is suitable for Indoor Cycling?
Music during an Indoor Cycling workout is incredibly important. Some find this even more important than the trainer himself. When the music is good and suits the exercises you are doing, you can get totally absorbed in a class. Music gives you that little bit extra when you're sitting through it.
Actually, any music category can be used for a playlist for Indoor Cycling. Depending on the purpose of the track you are currently cycling, you can choose a quieter type of music, such as classical, during a warm-up or cool-down. However, the most commonly used songs are those that energize you. For example, up-tempo tracks are excellent for a sprint, and you pound away the heavier resistance easier, with a good beat from a hardcore or rock song. The variation in music, makes a class varied and personal. Thus, you will find that each trainer has a particular preference for a type of music.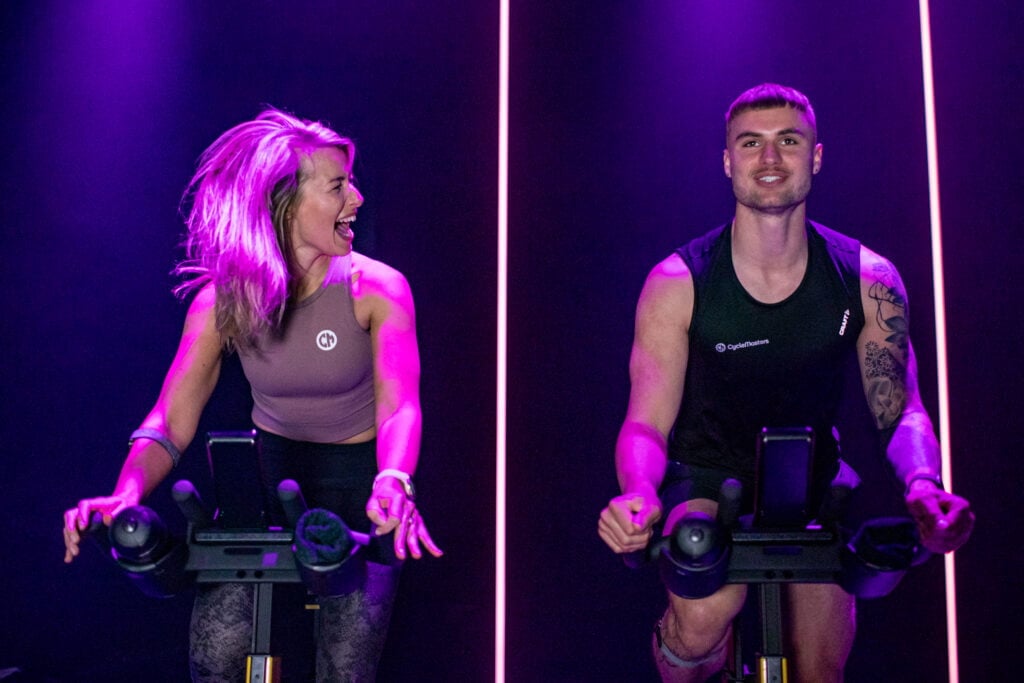 RPM versus BPM
In the cycling world, athletes use the term RPM. RPM means "Revolutions Per Minute. We are talking about the speed at which you pedal your bike / how fast your pedals turn.
BPM (Beats Per Minute) is a term used in the music world that is useful for matching your RPM. During your workout, the RPM is matched to the BPM. Does your coach talk about double tempo? Then you can use the beat to adjust your speed to it. When sprinting, the speed is free, and you don't necessarily have to keep the beat. It can vary from exercise to exercise, whether you pedal to the beat or grab a double tempo, for example.
Where can you find good Indoor Cycling music?
You can find Indoor Cycling music at several places. Depending on whether you also want visuals to accompany your workouts, the following options are recommended:
YouTube
YouTube is full of fine Indoor Cycling playlists. Type in 'Indoor Cycling music' and listen to a number of playlists. Then judge for yourself which music you like and what you like best on your Indoor Cycling bike. The only downside: be aware of commercial breaks in the videos.
Indoor Cycling App
There are several Indoor Cycling apps where you can exercise, with or without the guidance of a trainer and music. With free apps, you often link your own music list to the workout. However, do you want more guidance from a professional instructor? Then you often don't have to think about the music either. With paid apps with workouts, this is completely taken care of for you.
Spotify
Spotify has a great selection of Indoor Cycling songs. Our own instructors made some CycleMasters Spotify Playlists especially for you, with workout songs for cycling. Varied, energetic and occasionally real sing-alongs: discover their favorite songs!
Top 10 Indoor Cycling numbers according to our instructors
Are you looking for good songs for your own playlist? Then, according to our instructors, the following songs are not to be missed.
Do you choose your own music or instructors' music?
It is nice to choose your own songs that you cycle to: this way you can be sure that you are exercising to your favorite music. However, don't mistake the Indoor Cycling music of instructors. They compile precise playlists because they know from experience which song is good for which type of exercise. For example, they pay attention to the music tempo and know which power songs are most popular among cyclists.