Indoor Cycling music has the ability to elevate your workout and push you to new limits. In this article, we will delve into the world of indoor cycling music, discussing its importance and offering valuable insights to help you select the perfect tracks. Whether you prefer high-energy beats or a more serene ambiance, we have you covered. Join us as we explore the best options and provide a list of the top 10 indoor cycling songs recommended by our instructors.
Table of contents
What Music is Suitable for Indoor Cycling?
When it comes to indoor cycling, the right music can make all the difference. It sets the tone, motivates you, and enhances your overall performance during a class. While any music category can be used for an indoor cycling playlist, upbeat and energizing tracks are often favoured. Picture yourself sprinting to the rhythm of a hardcore or rock song, effortlessly pushing through the resistance. However, during warm-up or cool-down sessions, you might opt for a quieter genre such as classical music. The key is to create a varied and personalized playlist that complements different types of exercises.
The variation in music, makes a class varied and personal. You will find that each instructor has a particular preference for a type of music.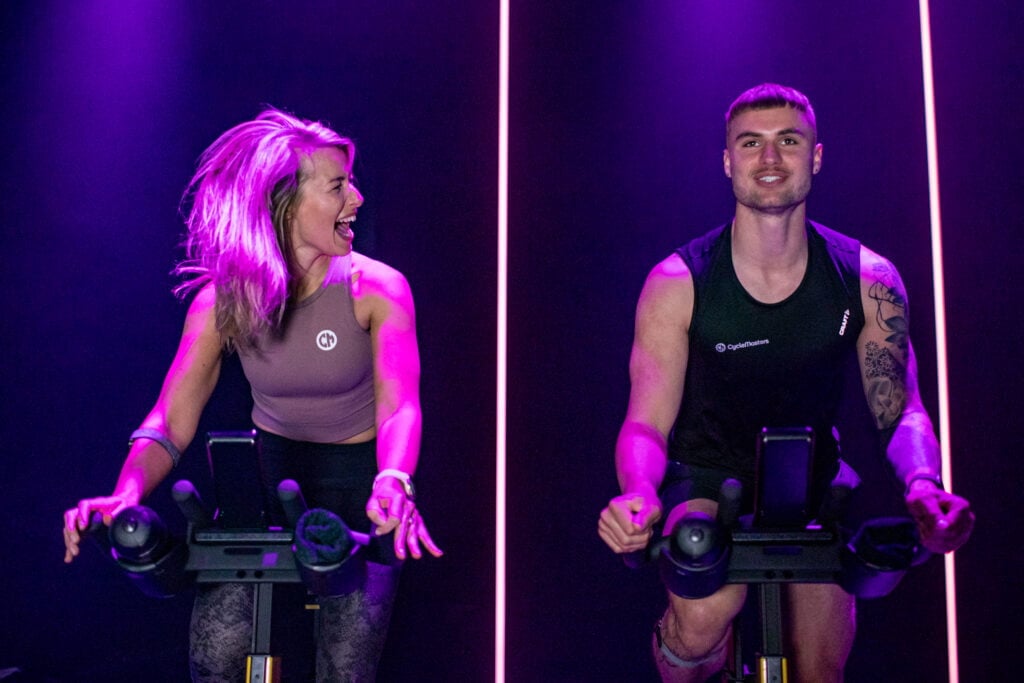 RPM versus BPM
In the world of Indoor Cycling, two essential terms come into play: RPM and BPM. RPM stands for "Revolutions Per Minute," indicating the speed at which you pedal and how fast your pedals turn. On the other hand, BPM refers to "Beats Per Minute," a term commonly used in music to measure the tempo. During your workout, matching your RPM to the BPM can help synchronize your movements with the music. While it's not always necessary to pedal to the beat, aligning your speed with the rhythm can enhance your cycling experience.
Where Can You Find Good Indoor Cycling Music?
If you're searching for great Indoor Cycling music, there are various options available. Consider the following platforms:
YouTube
YouTube offers a plethora of indoor cycling playlists. Simply search for "Indoor Cycling music" and explore the available options. Listen to different playlists and discover the music that resonates with you. However, be mindful of potential commercial breaks within the videos.
Indoor Cycling Apps
There are several indoor cycling apps that provide workouts with or without the guidance of a trainer and curated music. Free apps often allow you to link your own music playlist to the workout. For a more guided experience, paid apps take care of the music selection, ensuring a seamless integration with your workout routines.
Spotify
Spotify boasts an extensive selection of indoor cycling songs. Many instructors curate their own playlists on Spotify, offering a diverse range of energetic tracks. Check out CycleMasters Spotify Playlists, specially crafted by our instructors, for a dynamic and engaging indoor cycling experience.
Top 10 Indoor Cycling Songs According to Our Instructors
To help you kick-start your indoor cycling playlist, we've compiled a list of the top 10 songs recommended by our instructors. These tracks have proven to be energizing and effective for enhancing your workout sessions: According to our instructors, the following songs are not to be missed.
Do You Choose Your Own Indoor Cycling Music or Instructors' Music?
While it's enjoyable to cycle to your favourite songs, it's worth considering the music chosen by instructors. Their meticulous playlist curation is based on experience and knowledge of which songs complement specific exercises. They pay attention to factors such as tempo and popularity among cyclists, ensuring an optimal workout experience. So, don't underestimate the value of instructors' music choices—they can introduce you to new tracks that perfectly align with your cycling goals.
Conclusion
Incorporating the right Indoor Cycling music into your workouts can elevate your experience, boost motivation, and enhance your performance. Experiment with different genres and tempos to create a playlist that matches your preferences and goals. Whether you choose to pedal to the beat or explore double tempo, the power of music for indoor cycling is undeniable. So, put on your favourite tracks, immerse yourself in the rhythm, and make the most out of your indoor cycling sessions.