Are you ready to embark on your indoor cycling journey? Understanding what you need for indoor cycling is essential to get started. Choosing the right Indoor Cycling essentials like a bike, paying attention to training data, stability, and pedal options are key considerations. Additionally, finding the right bike shoes and suitable clothing is crucial for comfort and performance. Let's explore these elements in detail and discover some useful apps to enhance your indoor cycling workouts.
Table of Contents
Excercise at home
Indoor Cycling offers the convenience of working out at home, with online classes accessible through apps. Stream classes to your tablet or TV, and enjoy the flexibility to exercise whenever it suits you. However, to engage in indoor cycling, you'll need a specialized piece of equipment — an Indoor Cycling bike.
Buying a good Indoor Cycling bike
It is one of the most important Indoor Cycling essentials. When purchasing an Indoor Cycling bike, it's recommended to seek guidance from a reputable store or specialty shop to ensure the right model for your needs. Indoor Cycling bikes vary in price range and can be bought new or second-hand. They feature a flywheel and resistance adjustment button, with the stability and resistance capacity determined by the weight of the flywheel, typically around 20 kilograms.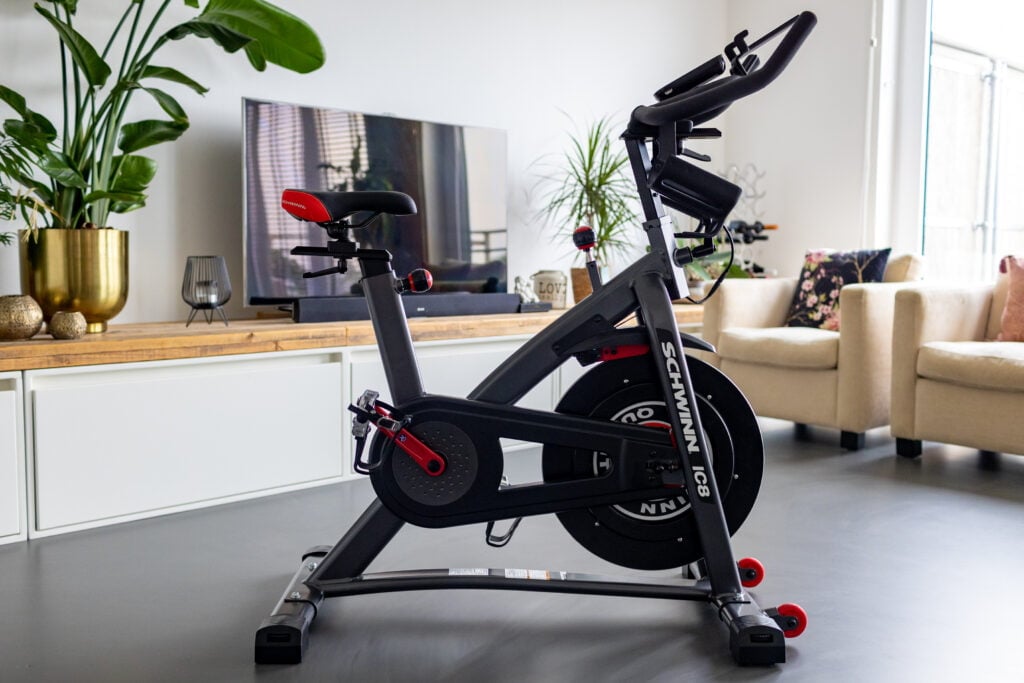 Chain Or V-Belt
Pay attention to the type of drive when choosing an Indoor Cycling bike. You can opt for a chain drive or a quieter V-belt drive. While both options provide similar sports performance, the V-belt drive is often slightly more expensive due to its reduced noise level.
Training data
Most Indoor Cycling bikes have built-in display screens that show real-time data such as speed and distance. Some models even feature comprehensive training computers for storing and tracking workout data. Alternatively, you can utilize separate apps like Strava to monitor your progress. Heart rate measurement can be achieved through handlebar sensors or by connecting a heart rate monitor, while proper adjustability of the saddle and handlebars ensures optimal cycling posture and reduces the risk of injuries.
Stability and pedal choice
Ensuring the stability of your Indoor Cycling bike is crucial for safety and floor protection. Check for a solid frame and sturdy legs. Additionally, consider your pedal options. Click pedals, such as SPD pedals (Shimano Pedaling Dynamics), require special cycling shoes and are preferred by enthusiasts of bicycle racing. Alternatively, pedals with straps and toeclips allow you to wear regular sports shoes. Some Indoor Cycling bikes offer both pedal options.
Bike Shoes and Clothing
The choice of footwear and clothing significantly impacts your indoor cycling experience. If your bike has pedals with straps, regular sports shoes are suitable. However, if you opt for SPD pedals, you'll need cycling shoes designed for clipping in. Ensure a comfortable and well-fitting pair of shoes to optimize your performance.
Not particularly Indoor Cycling essentials, but when it comes to clothing, breathable sportswear is recommended for comfort during intense workouts. Consider the option of cycling shorts with a seat pad to minimize saddle discomfort, especially for men.
Useful apps for Indoor Cycling
Several apps can enhance your indoor cycling journey. For guided workouts, CycleMasters offers a variety of classes and programs led by professional trainers, providing an immersive experience tailored to your preferences. You can even try CycleMasters' online classes free for 7 days to see if it suits your needs.
Embark on your indoor cycling adventure fully equipped with the knowledge of what you need for a successful and enjoyable experience. Remember to prioritize safety, comfort, and personal preferences as you select the right Indoor Cycling bike, gear up with appropriate shoes and clothing, and make use of helpful apps to track and enhance your progress.
Get ready, make sure you have all your Indoor Cycling essentials available and pedal your way to fitness and well-being from the comfort of your own home.