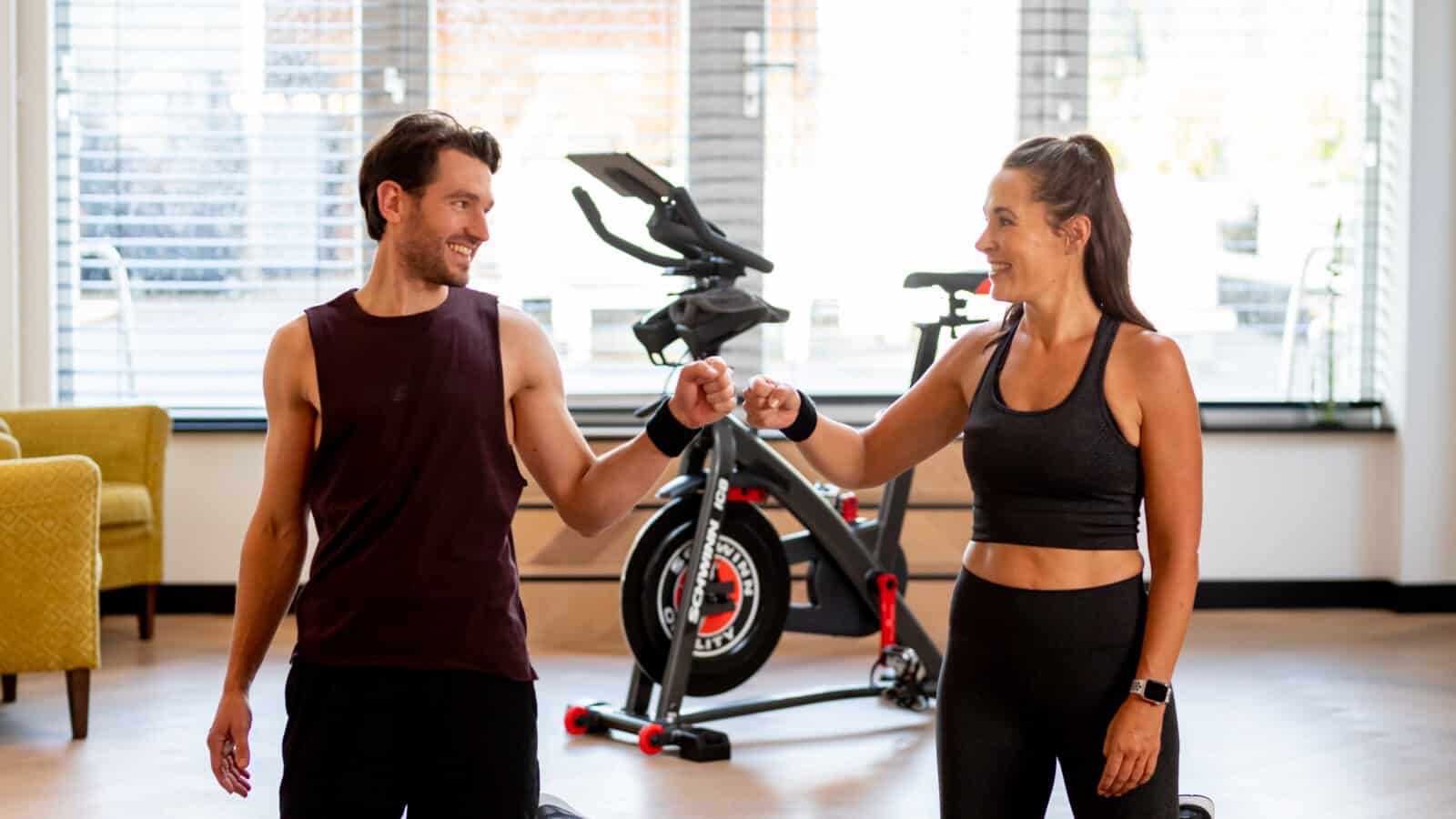 CYCLEMASTERS BIKE ADVice
Indoor Cycling bike advice
Are you looking to buy an Indoor cycling bike? With these Indoor Cycling bikes of 2022 you can start exercising at home right away.
the 2022 models
Our selection of Indoor Cycling bikes for home use
Exercising at home is becoming increasingly popular and sales of Indoor Cycling bikes continue to rise. Home athletes are adding online cycling classes to their exercise routine and are frequently getting on their bikes at home. The sport is suitable for any athlete and the workouts can be followed at any level. Indoor Cycling bikes are now available in different price ranges and so the sport can be practiced by anyone at home. Choose the best Indoor Cycling bike for your situation and get started right away.
for every budget
VirtuFit Tour Indoor Cycle
This sturdy Indoor Cycling bike from the Dutch brand VirtuFit is stable on the ground and has a load capacity of up to 135 kg. The bike has a 22 kg flywheel and includes a display showing time, speed, distance and calories. The VirtuFit Tour Indoor Cycle also lets you see the number of revolutions per minute. This Indoor Cycling bike is powered by a V-belt and the resistance is regulated by a felt block that you yourself can set heavier or lighter with the dial. The comfortable handlebar and saddle are adjustable using an L-bolt, a safe system that is quite unique in this price range. This bike has toe clip pedals, so you can ride with any type of shoe.
€ 399,- via Fitwinkel.nl
silent and smooth
Flow Fitness Racer DSB600i
The Flow Fitness Racer DSB600i features 32 computer-controlled resistance levels and 19 programs. This Indoor Cycling bike has a magnetic resistance system and is driven by a V-belt. The pedals have toe clips, but also feature an SPD click system that allows you to exercise with appropriate cycling shoes. An advantage of this bike is that, due to the carefully balanced flywheel of 20 kg, it creates virtually no vibrations and is therefore pleasantly quiet.
€ 949,- via Fitwinkel.nl
DESIGN AND ROBUST
FitBike Race Magnetic Pro
Whether you're an avid home athlete who rides your bike daily or you work out twice a week. The FitBike Race Magnetic Pro is a qualitative top bike. A beautiful design and robust appearance that does not look out of place in your home. With its own flywheel of 22 kg, this bike can take a beating and can be loaded up to 150 kg.
The resistance on the flywheel is determined by means of a strong magnet. This ensures that the resistance can be accurately regulated. This, in combination with the V-Belt drive, ensures that you will have little maintenance on this bike. In addition, you can be sure that this will result in a noiseless bicycle.
€ 599,- via betersport.nl
strong & stylish
Senz Sports S5000
The new Senz Sports S5000 is a strong and stylish bike suitable for the intensive home athlete. Besides the beautiful design, the Senz Sports S5000 is strong and stable. With a weight of 58 kg, it can be used very intensively. The S5000 can therefore be loaded with a maximum user weight of 130 kg. The resistance of the S5000 is determined by a strong magnet. By adjusting the resistance via the display, the position of the magnet in relation to the flywheel will change. This new technique has the advantage that the resistance can be regulated more precisely and that the system requires no maintenance and is completely silent in use.
€699,- via Betersport.nl
discover the benefits
The advantages of exercising at home with CycleMasters
get fit and healthy
Work with us to improve your health. By exercising, you improve the condition of your heart and blood vessels and increase the production of endorphins, the natural happiness hormone. In the process, you put minimal strain on your joints, reducing the risk of injury.
fitness improvement
With workouts ranging from 20 to 90 minutes, you choose how long you want to train. This allows you to work on your condition at your own pace. Combine various workouts into a varied workout or start an (XL) class and test your endurance.
lose weight
Do you focus on weight loss? With the CycleMasters workouts, you can make sure that you burn extra calories, while at the same time making your muscles stronger. By combining Indoor Cycling workouts with our Core and Yoga sessions, you will achieve your goals and more!
the professional choice
Life Fitness ICG Indoor Cycle IC7
The Life Fitness ICG Indoor Cycle IC7 features a self-powered, built-in TFT color screen and LED display on the front of the Indoor Cycling bike. 
The watt-rate is one of the most reliable power meters on the market, with a direct measurement margin of +/- 1%. Light cells are used to directly measure the moment (rotational force) on the shaft. You can slide any sports shoe into the pedals with toe clips. 
The magnetic resistance of this V-belt driven Indoor Cycling bike can be quickly changed to the desired level by means of a precise rotary knob. The dial is very sensitive and precise, and with a flick of the wrist you reach the maximum resistance.
€ 2.695,- via Fitwinkel.nl
Perfect price-quality ratio
Schwinn 800IC
With the Schwinn 800IC, you have everything you want in an Indoor Cycling bike. Apart from the sleek design of this latest Schwinn model, this bike also has a media rack on the front and two water bottle holders. By using a magnetic resistance system and a V-belt drive, the bike is incredibly quiet in use. Ideal for at home, when you want to exercise in peace or don't want to disturb your roommates. This Indoor Cycling bike with Bluetooth is a real smart bike. Connect your heart rate monitor or link your devices and get even more out of your workouts with data. All in all, our conclusion is that the Schwinn 800IC is a very complete Smart Indoor Cycling bike at a competitive price.
€ 1.099,- via CycleMasters.COM
durable & silent
Fitbike Race 4
Are you a beginning athlete at home? Then the Race 4 from FitBike is a good choice for you. This Indoor bike has a beautiful black design with red accents. The bike is stable thanks to its own weight of 28 kg. Unlike most Indoor Bikes in this price range, the resistance of the Race 4 is not determined by a felt block, but by means of a strong magnet. In mechanical devices, friction between parts often leads to wear and tear. This is not the case with FitBike's Race 4 and you can speak of a durable bike. Because the bike is completely silent in use, it is ideal for home use. Trail at any time of day without bothering anyone.
€ 299,- via Betersport.nl
starters bike
Domyos Biking 100
This Indoor Cycling bike from Decathlons own brand Domyos, was developed and tested for an average use of 5 hours per week. The non-slip handlebar is adjustable in height and the bike has a weight of 43 kilos. The flywheel weighs 12 kg and the bike is driven by a chain. The resistance is controlled by leather blocks. The Indoor Cycling bike is easy to move because of the wheels at the front. 
The console shows information about your workout, such as time, distance, current and average revolutions per minute (RPM) and calories. The pedals have straps where you can put your feet in. Also, the frame of the bike has screw holes, so you can attach a water bottle holder. Decathlon provides a 2-year warranty on the components and a 5-year warranty on the metal frame.
€ 319,99 via Decathlon.nl
For any BODY length
Hammer Speedbike Racer
The Hammer Speedbike Racer Indoor Cycle has a super quiet magnetic brake system and training computer with LCD screen and tablet holder. Adjust your saddle and handlebars to the right position and start your training in your own home.  Because of the long seat bar, you can use this bike up to a body height of 200 cm. The ergonomic sport saddle also provides comfort and support during exercise.
€ 474,- via Fitwinkel.nl
starters bike
Domyos Biking 500
The Domyos Biking 500 is designed and tested for an average use of 7 hours per week. The saddle and handlebars are adjustable in height and depth. The bike has a flywheel of 18 kg, the bike is driven by a belt and the resistance is controlled by a leather. The bike has a steel construction and weighs 46.9 kg. Even on an uneven floor, the bike is stable by adjusting the feet. The wheels at the front make the bike easy to move. The console is larger than the Biking 100 model and here you can read off time, distance, speed and RPM. This bike has pedals with straps, but these are easily replaced with pedals with a click system. 
€ 499,99 via Decathlon.nl
CycleMASTERS' Choice
Schwinn 800IC
Are you looking for the right equipment to get even more out of your Indoor Cycling workouts? With the Schwinn 800IC (formerly IC8) you have everything you want in a bike. A professional smart bike, specially developed for home use. That is why the Schwinn 800IC is CycleMasters choice in the world of Indoor Cycling bikes. At CycleMasters, you can shop the Schwinn 800IC Indoor Cycle, including 100 days of free membership!
find out more
Reviews

What our members think
Start your free trial
Our app for iOS and Android makes it even more fun and easy to perform your workouts. Get on your bike and get started right away. 
Discover our membership